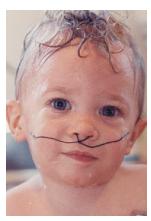 Mission
Our mission is to improve the health and care of babies born with choanal atresia. Children's Choanal Atresia Foundation carries out this mission through programs of research, parent-to-parent outreach programs, education and advocacy on behalf of mothers and babies' touched by choanal atresia.
History
Children's Choanal Atresia Foundation was founded in 1987 by James Loomis, whose son was born with bilateral choanal atresia. Mr. Loomis was an Industrial Engineer with a major aerospace company, and brought together a team of doctors and aerospace professionals to address issues regarding stenting. The accomplishments of the team were the design of a stent that will dramatically improve treatment for this birth defect. In the course of developing the nasal stent, Mr. Loomis also saw a need to provide parents with information about choanal atresia. When Children's Choanal Atresia Foundation first launched its web site in 1997, it was the first, and remains the only parental sponsored web site for information and resources. CCAF is the only non-profit organization that supports and advocates research and community service for infants and parents touched by choanal atresia.

Breath of Life Campaign
Breath of Life Campaign is an awareness program directed towards expecting mothers and mothers with neonate and toddler infants to share with them information about choanal atresia in order to prevent the devastating experience of a child suffocating to death.
Saving Infant Lives Campaign
Saving Infant Lives Campaign is directed toward health care professionals for a greater awareness about the life threatening birth defect of choanal atresia in order to facilitate improved diagnosis, treatment, care, and research about CA.
Nasal Stent Project
Nasal Stent Project is a collaborative effort between The Boeing Company, Seattle Children's Hospital including its departments of Otolaryngology, Dentistry, and Pathology. And the Seattle based firm of Model Instrument and Design who provided rapid tooling capabilities for the project.
Parent-To-Parent Project
Parent-To-Parent "Angel Network" Project provides personal emotional support as well as shared experience between parents who have experienced the difficulties and trauma of a child born with CA and providing the day to day care for these children. The Angel Network was established in 1989 and was introduced to Oprah at that time and is not affiliated with the Oprah campaign (1997) using the same name.